May is Veterinary Nursing Awareness Month, a whole month dedicated to raising awareness of the veterinary nursing profession and the vital role they play in animal care and treatment.
What was started as an awareness day by the British Veterinary Nursing Association (BVNA) in 2005 quickly grew into a week and expanded even further to a month in 2012.
Beth is a veterinary nurse at Cave Veterinary Specialists and kindly took time out to tell us about life as a vet nurse.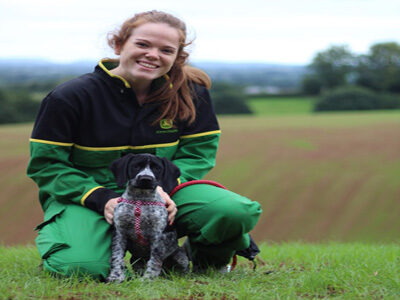 How long have you been a vet nurse and what training did you have to do to achieve your qualifications?
I have been qualified and working as a vet nurse for almost five years. I decided to go down the degree route to become a veterinary nurse as I have always loved learning and academia. I studied at Hartpury College, part of University of the West of England, for four years and came out with a first class honours degree in Veterinary Nursing Science. Part of my studies involved working for a year to gain my practical skills, which I did in a mixed first opinion and referral practice in Bristol.
What attracted you to a career as a vet nurse?
I think my earliest memories of whenever I was asked 'What do you want to be when you grow up?', I always knew I wanted to work with animals. I think partly this was because due to my love of dogs, but due to family circumstances not being able to have one growing up, and so I thought, what job will mean I get to spend time with dogs? And I decided working at a vets would cover that! My best friend at school's dad owned his own veterinary practice and so from the age of 14 I would spend a lot of my free time doing work experience there. From there I decided that veterinary nursing was the path for me!
What are the best things about being a vet nurse?
I love all the hands-on work I get to do with animals in my job. Because of the nature of referral nursing, a lot of our patients are quite sick and so I have time to create that bond with them while they are hospitalised. Every day nursing is different – you are never too sure what you will walk in on when you start your shift, and at any moment a call might come in where as a team we have to work together to perform emergency care for a patient. I get a lot of job satisfaction from being a vet nurse and I think that knowing all the years of planning and hard work that went into me getting where I am today makes it all the more worthwhile. Not everyone gets to work their dream job!
What kind of attributes do you need to be a good vet nurse?
You need to be kind, compassionate, optimistic, thrive on working as a team and able to have a good laugh at yourself when you get covered in a dog's bodily fluid!
What advice would you give someone thinking about a career as a vet nurse?
It takes a lot of hard work and determination to become a vet nurse and is not for the faint hearted or for those looking for a 9-5 Monday to Friday job. It requires a lot of sacrifices, but if you are willing to put in the dedication the satisfaction from vet nursing is incredible!
Also there are lots of different areas and levels of vet nursing, if you are feeling like you want to leave the profession, try something different, move to a different practice, try referral work, do some research, there are so many avenues and facets to veterinary nursing that if one area isn't right for you there are lots of different options out there to choose from.
What are the best things about working at Cave Veterinary Specialists?
The variety of the case load is amazing and the level of nursing care we provide is second to none. As a vet nurse we are given a lot of responsibilities and trust by the clinicians which allows for us to use our knowledge and skills to the best of our ability. Also, the team are fantastic, everyone is valued and appreciated for the work they do, whether it's the admin staff, clinicians, ACAs or vet nurses. We all understand that everyone has a role and without that role the practice couldn't be what it is today, which means that there is a lot of respect for each other.
For more information on Vet Nurse Awareness Month, visit: www.bvna.org.uk/about-us/veterinary-nursing-awareness-month