The brainchild of two of our vet nurses has turned into a national success story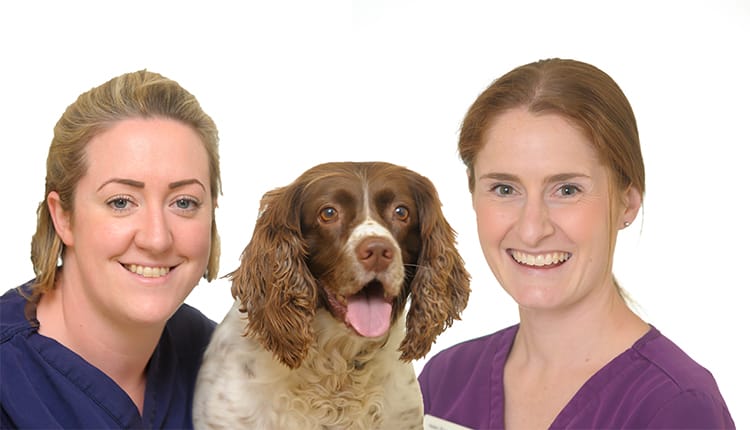 In 2018, head of nursing services Helen Bye and senior RVN Bryony Gilder set up an in-house nurse club to focus on nursing issues and opportunities for staff here at Cave.
Four years later, those team get-togethers after work have mushroomed into a nationwide online CPD service engaging hundreds of vet nurses across the country.
The last session attracted more than 600 sign-ups, with lectures published on the Cave website to help more nursing professionals catch up after the event.
Helen said: "It all started internally with the nurses at Cave meeting in reception after hours.
"We would get some pizzas in and one nurse would give a short lecture. Soon a few primary care nurses from other local vet practices started to join us.
"Nurses were able to share their expert skills in specific areas and support the primary care nurses with CPD advice and information and highlight specialist areas they could pursue.
"Things really changed, though, when Covid-19 forced us to take the meetings online, which meant we could reach a much larger audience.
"We also recorded videos and posted them online and had thousands of hits so it's grown massively and become a real success story.
"We had 640 vet nurses across the country sign up for our last event which surprised and delighted us.
"It's so rewarding to see how our nurse club idea has gone from a local initiative to something so big, with such a committed following."
Bryony added: "There are a number of reasons why I believe that nurse club has been so successful. Firstly, Nurse Club is free.
"Often, CPD budgets for veterinary nurses can be restrictive making it tricky to log the number of hours required to maintain RVN registrations.
"We also try and keep the content relevant to as many people as possible, dealing with a variety of issues and topics from nursing patients with medical, surgical, and neurological conditions to sustainability in veterinary practice and mental health.
"Other key factors are keeping it all contained within an hour, so people can fit them in around their already busy work commitments, and recording them to be available on demand.
"In the future we hope to be able to offer both face-to-face and online events. Meeting fellow veterinary professionals and presenting to a live audience over pizza is enjoyable and we look forward to having this opportunity again.
"The online success has been absolutely amazing with so many people accessing our events, that we would obviously like this to continue too."
Dr Andrea Jeffery, chief nursing officer with Linnaeus, applauded the duo's initiative and is delighted with their achievement.
She said: "It's a really remarkable success story and the duo deserve so much credit for what they have accomplished with the nurse club.
"At Linnaeus, we truly value our nurses and are committed to seeing them develop their careers to fulfil their true potential.
"That's a central part of my role within the group which is why it's so pleasing to see our nurses devising such a worthwhile initiative to support and encourage their colleagues across the country."
For more information on Nurse Club, click here or follow us on Facebook www.facebook.com/caveveterinaryspecialists